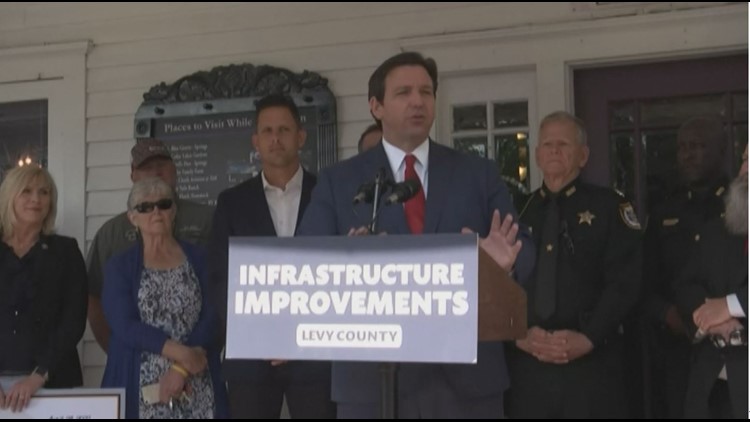 Gov. DeSantis made the announcement Friday morning. Opponents say it would lead to more shootings, deaths.
JACKSONVILLE, Fla. — Gov. Ron DeSantis says constitutional carry is coming to Florida. It would allow people to openly carry guns in the state.
It's a promise he says he's making before he leaves office.
"The legislature will get it done. I can't tell you if it's going to be next week or six months, but I can tell you that before I am done as governor, we will have a signature on that bill," he explained at a news conference in Levy County Friday morning. 
His remarks received an applause, but Wendy Malloy isn't on board.  She's part of Florida's chapter of Moms Demand Action, a national non-profit group advocating against gun violence. 
"We have the data, we know this is not a good idea, and we don't want this for Florida," Malloy said.
She has concerns about what permit-less carry could mean. If signed into law, it would allow Floridians to openly carry firearms even if they have not previously taken a training course.
Open carry legislation has been introduced in Tallahassee before, including in 2016 where it passed the House but not the Senate.  Florida currently has a concealed carry law.
"With this legislation Gov. DeSantis and the gun lobby are pushing, there's no training required. That just defies logic and common sense," Malloy told First Coast News.
Gov. DeSantis has called another special session next month to address property insurance, but it's not clear whether open carry will also be brought up.