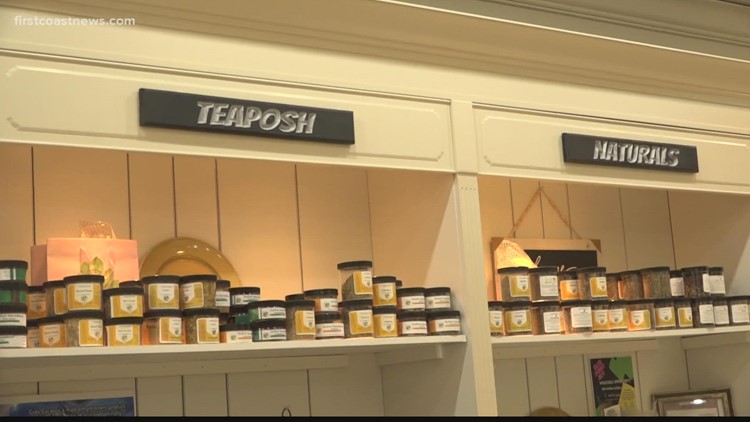 The Jacksonville Veterans Chamber of Commerce will hold a virtual workshop to help veteran-owned small businesses Friday.
JACKSONVILLE, Fla. — Their goal is to launch veteran-owned businesses. On Friday, the Jacksonville Veterans Chamber of Commerce is holding a virtual summit for veteran business owners to learn ways to grow their businesses.  
Rich Donnelly caught up with a veteran who will take part in the summit with the hopes of taking his business to the next level.
In his four years since retiring from the Navy, Luke Lewis is now skilled in the world of business. Faced with his own struggles in the startup phase of business, Lewis created a company called 1 Bridge Connect after attending a small business workshop.
"That's when we settled on the idea of creating a mall inside the mall to support small businesses that were in a struggle," Lewis said.
1 Bridge Connect is a series of stores inside of Regency Square Mall that aren't yet big enough to stand on their own.
"We have everything from candles to cosmetics and vegan grab-and-go food," Lewis said.
Lewis houses all of these small businesses under one roof with the hopes of letting them grow and move out of his store and into their own storefronts.
 "I truly believe that business is a team sport, one of our mantras is community over competition," Lewis said.
Lewis' goal of building a community of businesses will be on display when he joins the Veterans Chamber of Commerce summit on Friday.  A 20 year Navy veteran who hopes to build up businesses of other veterans.
Registration for the virtual summit is open until 9 a.m. on Friday, December 2 with the program beginning at 10 a.m. that day.  There will be four areas of focus in which business owners can participate.