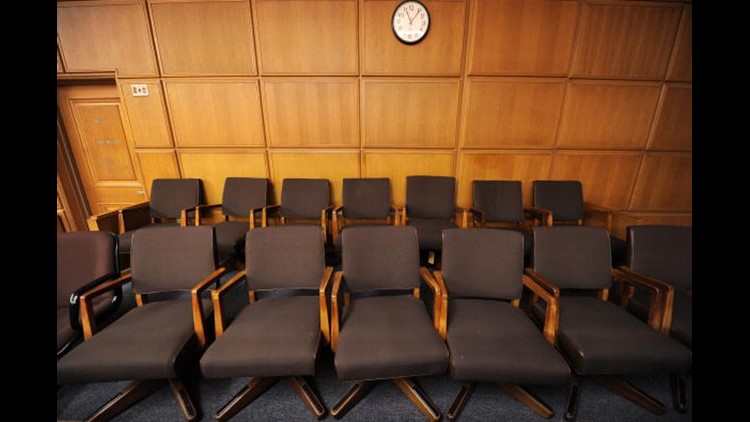 As of 4 p.m., at least five jurors were dismissed for cause.
BRUNSWICK, Ga. — Editor's Notes: The following are notes taken by the pool reporter assigned to the trial against Gregory McMichael, Travis McMichael and William Bryan. First Coast News has removed some details to help protect the identities of potential jurors.
Jurors are be referred to by their number assigned by the court.
Court Begins
The judge gives his greeting to the jury, explains the questioning process, and thanks them for their service. 
All three defendants are in the courtroom looking mostly straight ahead and without emotion. All defendants are wearing suits. 
The potential jurors stand to be sworn in by the judge. 
Judge Walmsley address jurors
408, 411 raise hands when the judge asks if related to defendants or Arbery
377, 392, 397 raise hands when asked if they have already formed an opinion
377 raises hand when asked if they already have any prejudice 
377 raises hand when asked if your mind is not perfectly impartial
 Prosecution Questions Panel
390 difficulty with English
408 415 377 390 life events that will take place during the approximate time of the trial
Greg McMicheal raises hand when she asks potential jurors does anyone know Travis McMichael 
383 knows Roddy Bryant 
411 408 knew Ahmaud Arbery
408 411 knows Arbery mother and father 
395 knows Arbery father
383 knows Amy Ellrod
402 knows Lee McMicheals, Greg McMicheals wife 
415 says he worked with Greg McMicheals on something before
377 380 383  415 has served on a jury 
381 has previous law enforcement experience
380 379 395 402 390  arrested before
392 knows defense attorneys Geoff
383 knows Roddy Bryant 
377 380 383  415 has served on a jury 
381 has previous law enforcement experience
377 379 380 381 392 397 411 415 close to someone in law enforcement 
392 experience in the legal field
402 414 medical field
392 knows a lawyer
395 396 386 402 403 409 415 victim of violent crime 
402 403 called 911 before 
396 415 has been a witness at trial 
377 379 380 381 383 386 392 397 402 408 409 411 415 own a firearm
396 wants to serve on the jury 
381 knows Brad Butler (witness on list)
383 392 known Payton (witness on list)
Defense Questions Panel
415 knows Greg McMichael 
383 395 415 knows Roddy Bryant
377 392 395 397 has a negative feeling about Travis McMichael 
377 392 397 has a negative about Bryant
377 392 397 negative feelings about Greg
381 participated in marches
397403 411 414 participated in BLM in any way
380 390 lost an opportunity because of race or ethnicity 
379  380 386 395 397 403 feel black people are treated unfairly in the justice system 
380 386 395 392 397 403 411 police do not treat black people the same as others 
402 says the verdict could cause them negative experiences 
Three jurors struck
10:33 AM Court resumes
390 who does not speak English as a first language was struck after the group questions earlier 
Now they begin individual questioning of potential jurors. 
Ahmaud Arbery's father is in the courtroom.
Stuck for cause: 377, 379
Juror 380
Black man older maybe 60s 
Said he served on a jury before 
Respects law enforcement but does think black people are treated differently by officers 
Said was arrested and said "it was the right thing" "first, only, and last"
Said he was treated fairly during the arrest 
Someone broke into his house before 
Said he had close relatives who went to jail before including his sister in law who tried to kill her husband and went to prison. She said he was treated fairly 
Saw the cell phone video "about 3 times" that's all he knows about the case
Says he can be fair
He said he told relative to be careful after learning of Arbery's death.
Said the relative knew Ahmaud Arbery. Doesn't seem to be a close friend, just knows from around.
Said the burglary he experienced was about a year ago 
Noticed a rally one day about Arbery but just went past it because he had received his summons. 
Says he hasn't followed the case beyond what he happens to see on the news
The defense attorney asks has he seen signs from protestors and "What does justice for Ahmaud mean to you?"
He says it means that people want to right a wrong
Said from the cell phone video it looks like the McMicheals had it planned
Said he's still able to put what he saw aside and listen to the evidence and come to a fair conclusion
Says he has not followed news reports since getting his summons
Said he's not on social media and barely goes on the internet, says he's "old school"
Thinks race played a role in what happened based on his life experience as a Black man 
Said he can put aside what he's been through and be objective 
Doesn't know anything about Arbery or the defendants 
Said he goes to church but the pastor hasn't really talked about the case at all 
380 returns to the rest of the panel in another room
Bryant's attorney said that when 380 walked in, Ahmaud Arbery's father nodded at him. Said he is concerned it is a subtle gesture that encourages bias.
The other attorneys said they did see the nod.
The judge said he did not see it either. 
Juror 381
White man, 40s
Works in law enforcement instructor (firearms etc)
Said he worked for Federal law enforcement at some point 
He participated in one of  "run with Maud" runs
He said he wanted to support the family after the "tragedy that struck the community"
Says the family deserves closure 
Said he's seen the cell phone video maybe 5 times 
Said he had conversations with his friends in law enforcement when the video initially came out 
Know a large number of law enforcement agents because of his work 
Said he's not concerned about violence in the community after the verdict; he says its a mostly peaceful community 
Said he's not worried about his safety  
381 rejoins panel 
Prosecution raises an objection to the defense asking potential jurors "What does justice for Ahmuad mean to you?"
Defense Motion
Defense attorney Laura Hogue submits an oral motion to add a few questions for potential jurors to address what she says is an "unfair system that has been accompanied by movements" for a verdict.
She specifically mentions the "Justice for Ahmaud" mantra which she says encourages a guilty verdict. 
Hogue thinks being in a small town and the pre-trial publicity can affect jurors. 
She also feels the arrest of Jackie Johnson, hate crime laws, and civil lawsuits can affect jurors. 
Some of the proposed questions:
Whether the amount of time between 2/23/2020 (when Ahmaud was killed ) and when the defendants were charged has played any role in how you feel about the case or defendants.
If you were in the accused place, would you want someone with your views on the jury?
Do you think a not guilty verdict will affect your standing in the community or for your loved ones?
The judge said the Prosecution deserves time to prepare a proper response to the defense motion before he can make a ruling. 
Two Jurors Struck
408 is struck for cause (related to Arbery)

Said she really doesn't know if she can do it (be objective and serve on the jury)

411 is struck for cause (friend of Arbery)
Juror 383
White woman
Knows Roddie Bryan
Has seen social media comments about the case 
Said even with knowing Bryan she can be fair and impartial 
Has not formed any opinion of the 3 defendants at this time
Says she can be fair despite being a victim of theft before
Owns a firearm
Says she recognizes the names of a few people on the witness list but none are close friends
Juror 386
Black man, 30s
Family member arrested, doesn't think he was treated fairly
Was a victim of a burglary
Owns firearms
Has lived in Glynn County a few years
Says despite his experiences he can be objective
Does not feel any pressure from the community no matter what the verdict is 
Talked about the case with his family when Ahmaud's death initially happened but not frequently
Said he saw the cell phone video several times 
Said on his juror form that he felt Ahmaud was scared for his life 
Feels that it was unfair especially two against one 
Said he's probably liked Run with Maud posts on social media
Has not gone to any rallies for Ahmaud, or BLM
Feels he could be fair despite his past experiences and thoughts once he sees the evidence
Thinks race plays a role in the case. He said since Ahmaud was young and black in a white neighborhood he was targeted
Said he saw a citizen's arrest once when two guys held someone down who tried to break into a car. He said it was fair
*Mr. Hogue asked #386 one of the questions his wife Laura filed the motion to ask earlier. The judge said he has not yet ruled on the motion to ask the question so he objective. Mr. Hogue said he didn't understand why. The judge sent #386 away while they discuss the issue.
After #386 returned and questions were completed, The Judge said he wanted to go on the record the 3rd question Hogue filed a motion to ask the jury could be considered racially charged. (paraphrase: Would you want you to serve on a jury for you with your views)? The Judge said this is one reasons why he feels the prosecution deserves the time to review before they respond… and before he rules. 
Juror 395
Juror 395, a black man perhaps in his 50s or 60s, said he knew Marcus Arbery Sr. He said Bryan had sold him some lawn equipment. 
He said he had negative opinions of Greg McMichael as a parent: "I couldn't imagine doing something like that as a father with my son." "I can put it aside. I'm just being honest as a parent." 
When asked if he saw any demonstrators gathering outside or saw the banner outside of the courthouse he said he doesn't remember and hadn't paid attention. 
He's not on social media, but has seen information about the case on the news. He hasn't followed them. "Somebody got killed, I know that, but the rest of it, what really happened, I don't know." 
The defense asked the juror why he believed Ahmaud was killed while jogging. 
"I have no idea." Asked if he saw references to 'jogging' on the news, he said "that must have been where it came from. Are you saying he wasn't jogging?" 
Said he could be open to hearing a self-defense case: "I mean that's the only way to form an opinion. You really have to know what happened." 
He said that based on what he's heard about former DA Jackie Johnson, her handling of case made matters worse. 
"The people voted her out, so she did something wrong." "I really don't know how it was mishandled, but it was mishandled somehow." 
Juror said he doesn't know a lot about the case and any negative feeling he has about it won't impact his ability to make a decision in it. Says he has to know more. 
Says he doesn't own a gun but is getting ready to buy one because "I just think you need to have one these days for safety." No experience with guns in the past. 
Works for a major corporation. 
Has served on a grand jury.
Juror 396
Juror 396, white woman age 30-40. 
Juror says she has a suspicion she went to school with someone on the witness list but isn't sure. 
Currently not employed.
No opinions on the guilt or innocence of any of the defendants. Said she had scrolled past articles about the shooting on Facebook. 
"I didn't want to be bored out of my gourd about it" 
Didn't want to be exposed to this case and has been limiting exposure. Had been getting notifications from the Brunswick News, but when the articles about this case started coming out, "I snoozed them for 30 days" 
"When you asked the question about who wants to be a part of this, that was me" 
When questioned by Sheffield, juror was asked about going to high school with Travis. Said she wasn't sure if they weren't to school together but may have. 
Isn't sure that she's seen the video and doesn't know a lot of the specifics of the case. "This case became another case of community impact. It became another example of uniting some and dividing others in the community. That's been my takeaway of the case so far." 
Says she hasn't discussed the case with a lot of people because she's a homebody. "I tend to live a pretty drama-free life." 
Says she wrote in her questionnaire that two guys murdered another guy based on the general consensus of people around her. Also says she hasn't heard of citizen's arrest and hasn't researched it. Says she has not been involved in the BLM movement. "My theory is black white pink purple polkadotted or rainbow, people are people and everybody has rights." 
Sheffield: "What do you understand about Mr. Arbery." Juror 396: "I never met him. I don't know him."
Says she feels that there are probably entities that are trying to make it about race and that would only happen if the parties involved make it become that. Says there are those who are capitalizing on using certain motivations to create a frenzy. "When people are fighting, they're not thinking. If they're thinking, they're probably not fighting."
Juror 397 Struck
Juror 402
Juror 403