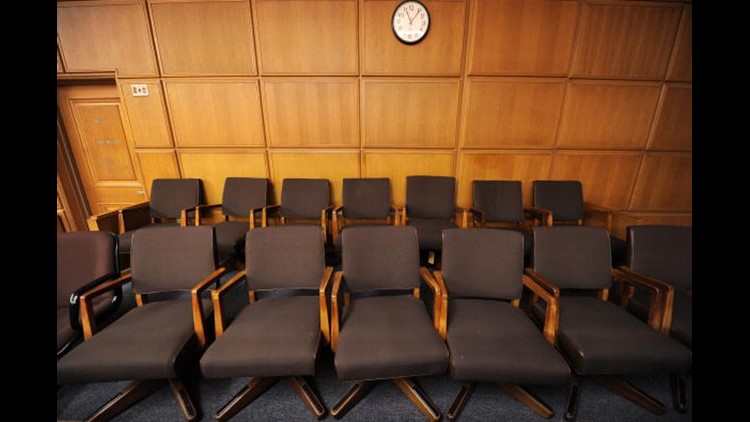 Here are the notes taken by the pool reporter assigned by Judge Timothy Walmsley.
JACKSONVILLE, Fla. — Editor's Note: The following are notes taken by the pool reporter assigned to the trial against Gregory McMichael, Travis McMichael and William Bryan. First Coast News has removed some details to help protect the identities of potential jurors.
Court Proceedings Begin
The second day of jury selection is underway. Superior Court Judge Timothy Walmsley has taken the bench.
The defendants and their attorneys are seated to the right of the assembly room, the prosecution is on the left.
They are be starting with a completely different panel of prospective jurors than yesterday. (12 of the initial 20 prospective jurors were dismissed on Monday afternoon.)
Walmsley began by thanking the panel for their time and noting that this is a high-profile case.
"Many of you knew when you got your summons that you would be involved in a case that in this community, is of some note," he said.
"We can't do what we do in the Superior Court without members of the community coming down and making themselves available for jury selection… We can't do this without you."
Jurors have been sworn in.
Asked whether their minds were perfectly impartial between the state and the accused, four of the 20 prospective jurors raised their hands, indicating they were not.
 Group Questioning
Prosecutor Linda Dunikoski is questioning the prospective jurors as a group. It appears a few of them personally know some of the figures in this high-profile case.
Juror No. 62 raised his hand and said he knew Greg McMichael and previously had law enforcement experience. He also knows Glynn County Schools police Chief Rod Ellis, who could be called as a witness at trial.
Another woman, juror No. 41, said she knows William "Roddie" Bryan.
Juror No. 50 raised his hand and said he knows Waycross Judicial Circuit DA George Barnhill, who was previously assigned the case after former DA Jackie Johnson.
Juror No. 65, a Black woman, said she knows Ahmaud Arbery's father, Marcus.
Another man said he previously served as foreman in a trial and that they were able to reach a verdict.
One potential juror, who said he is older than 70 and does not want to serve on this case, has also been on a jury before.
One person raised their hand and said they know current Brunswick DA Keith Higgins, who ousted Johnson during last year's election.
Three people previously served in the military and four said they had previous law enforcement training.
Eight people said they had been prosecuted for a crime, and at least a dozen of the 20 said they own firearms.  
Jurors 42, 65 39 raised their hands when asked if they knew anyone in the room.
The defense has just finished questioning the group. Jason Sheffield, who represents Travis McMichael, asked the first round of questions:
"The gaps between your name tags represent the folks who didn't come today," Sheffield said, thanking them for showing up for jury duty.
No. 62 said again that he knows Greg McMichael.
No. 39, who was seated in the front row, said he knows Bryan.
Four people said they have "negative feelings" about Travis McMichael, and three said they had negative feelings about his father Greg.
Two of the 20 potential jurors they had harbor negative feelings toward Bryan.
At least seven potential jurors said there are no guns in their homes.
Three people, Jurors 39, 50 and 72, said they vote based on the issue of guns.
One potential juror, No. 42, a Black man, said he's participated in racial justice demonstrations.
Five people said they support the Black Lives Matter Movement.
Walmsley has called a 10-minute recess before ahead of individual questioning.  
Juror 85
Walmsley said Juror No. 85, who is 85 years old, took a while to leave the room and made a comment about whether or not he had to serve given his age.
He was just letting the attorneys know.
He was brought a chair during group questioning because the bench was uncomfortable.
State makes a motion to excuse juror 85 for cause, the 85-year-old with health concerns mentioned earlier.
Juror 39
Juror No. 39, a white man, who has been brought into the room.
He said he knew George Barnhill.

Juror No. 39 says he is an acquaintance of Diego Perez, a neighbor of the McMichaels who was one of the first people on the scene after Arbery was killed. (Perez assisted the McMichaels in another search for someone they thought was breaking into homes about two weeks before the fatal shooting)

He said Bryan "looks familiar," but added he's lived in the community for [a long time.]

He also said he clicked on some of court documents listed on the clerk's website before appearing for jury duty on Monday. They were listed alongside instructions for jury selection.

Asked whether he can set aside the information he learned, the juror said he could.

"I'm still leaning one way or the other. I just don't know what kind of evidence is going to present," he told Dunikoski. "I just don't know what's going to happen."

He acknowledged that everyone in the community is familiar with the case to some degree.

"We're looking for jurors who can base their verdict on the evidence from this witness stand, and some people can't do that," Dunikoski told him.

Bob Rubin is questioning him now.

Juror No. 39 said [knows]Rod Ellis. He said earlier that he thought he recognized another potential juror, but realized after seeing him without a mask outside the courtroom that he was mistaken.
Juror 41
Juror No. 41, a white woman, was brought into the room.
Said her husband and father-in-law know Bryan.
The mother told attorneys she was the victim of domestic abuse in her previous marriage.
"You watch it on TV, you see it on Facebook and everything that's in the media to see, I know," the woman said.
Questioned and sent back to jury room.
No. 42 was struck for cause after saying they believed all the defendants should be convicted on all counts, according to the attorneys
(Both the prosecution and the defense agreed)
Juror 44
Juror No. 44, a white woman, was brought in for individual questioning.
Said she supports the Black Lives Matter movement and is a mother. She said she wants to teach her daughter to respect everyone.
"I don't have to worry about being approached because of the color of my skin, or because they way I walk or the way I talk."
She said earlier that she believed Black people were unfairly treated in the criminal justice system.
Jury No. 44 said her husband has followed the case closely and has a negative view of the defendants.
"When I got the jury summons, my husband was adamantly against the defendants," she said.
The woman said she believes she could be fair and impartial and would refrain from discussing the case with her husband at home.
"I don't know what happened. The only people who know what happened were there," she said after being asked about her opinion of the case.
She said she wants to do her civic duty, but fears possible repercussions in her personal life if she is selected to be a juror.
Sheffield asked more about her stance on race and whether she believes it played a role in the case.
"We can't go around our daily lives with our eyes closed and not see something that's been ingrained in us since we were kids," she said.
Juror 42 & 50 (dismissed)
Juror No. 42 was a Black man who said he's participated in racial justice demonstrations
Juror No. 50 has been dismissed. Both sides agreed but no cause was given in court.
Juror 48
They are now questioning juror No. 48, a young woman who said she is hearing impaired and doesn't have reliable transportation to and from court.
"I saw the news footage and I saw the video footage of the crime, and I've already formed a guilty opinion of the crime."
"I think that they're guilty," she said.
She said she has discussed the case extensively with her and believes her opinion has already been formed.
No. 48 has been dismissed. No objection from the state.
Juror 52
Prosecutors interviewed Juror No. 52, a woman.
She previously worked as a reading interventionist at a magnet school in Charleston, SC
She's lived in Brunswick for nearly eight years, moved to the area for her ex-husband's job. 
The woman said while her husband was in law enforcement, she sees "the good and bad" in the profession.
She said she has seen the video of the shooting at least once, but couldn't recall exactly how many times.
"I just remember thinking I didn't want to watch it again," she told Bob Rubin.
The woman says she doesn't watch the news, but gets her information from following local media organizations on Facebook. 
She told Bob Rubin has followed the case, but not extensively. She has also shared articles about the case online.
She's a member of at least two Facebook community groups, she told Laura Hogue, one of the attorneys representing Greg McMichael.
"At the very beginning, I was curious about it since it's in our community," she said. "Some of the things I'd post, I didn't even read the entire article."
The woman said the majority of the comments posted online about the shooting had been negative.
Juror 56
Attorneys have dismissed juror No. 56, a gray-haired retiree.
The man said he is the full-time caregiver of his mother, who has medical issues. Taking care of her is a full-time job, the man told prosecutors. 
"Normally my wife would take care of her but she's going to be traveling," he said, adding that she's going to California until mid-November.
He was struck with cause. No objections.
Juror 62
Juror No. 62, the man who said he knew Greg McMichael.
He's also looking to become a Glynn County police officer himself.
Asked about his relationship with Greg McMichael, he said: "He's a friend of my father's and he's been over to our house multiple times."
The potential juror also said he's met Jackie Johnson "on a number of occasions"
After questioning him, attorneys sent him back into the assembly room.
Juror 72
Juror #72 appears to be a white woman in her 20s or 30s. 
[She] owns firearms. Her father […] a friend taught her how to use firearms.
Dunikoski is questioning her. 
She said she gets her information from the case from news outlets and social media and she has publicly expressed her opinion that "it wasn't justified what happened to Ahmaud Arbery and I believe that I don't believe in vigilante justice." 
She believes this was a hate crime, but told prosecutors [she] understands the defendants are not being charged with that.
When asked if she can put aside all she's heard and decide the case based on the facts of the case, she responds "absolutely." 
"I think I've always been a pretty objective person," she said.
She was the victim of a break-in about 10 years ago while living in Brunswick.
She considers the Confederate flag to be a racist symbol, that police don't always treat Black people, POC and white people the same and supports BLM. 
She said her opinion on police and BLM would not affect her ability to judge the evidence in this case.
She said her negative feelings about defendants come from the media, but can "absolutely" give them a fair trial.
Judge Frustrated By Slow Pace
Walmsley urged attorneys on both sides to move quickly.
"Just remember we've got a 1 o'clock panel of 20 coming in and would like to move things along."
The pace of jury selection is frustrating Walmsley, who urged both the prosecution and defense to speed things along.
A second panel of 20 potential jurors was supposed to be assembled at 1, but Walmsley is sending them home until Wednesday.
"I do not have the ability to just store people or keep them longer than planned," the judge said. "I am not comfortable with this… At the rate we're going, all these plans we have to move these panels through are not going to work."
The judge is shifting to morning panels only. We're currently on Panel 2, Panel 3 (which would have been today's afternoon panel) has been released. Tomorrow Panel 4 will come in. 
Panel 5 will move to Thursday of next week at 8:30 a.m. and so on. The afternoon panels are being pushed to the next available morning through 15. This gives us extra panels beyond the two weeks.
Rubin asks the judge if he can ask jurors how they plan to judge the case solely based on evidence. Walmsley said that kind of question is almost like a challenge to the jurors.
"The fact that they're willing to try is what the court is looking at when it comes to strikes for cause," Walmsley said.
Juror 73
Juror #73 being brought in now, she appears to be a white woman. She owns a gun. 
She supports BLM and agrees police don't treat Black people and white people equally, but said that won't impact her judgment in the case.
"No one should have to fear going out because of their color," she told prosecutors. "I believe that Black people don't get treated the same as white people."
She said she typically doesn't watch the news but when Arbery's death happened it was hard to avoid. 
When asked if she's seen the video she replies: "If I have it's been a long time."
Jason Sheffield asks Juror [73] if the video has shaped her thoughts about the case and she says no, because she can't remember it.
He asks if she still thinks a crime has been committed. She initially says she doesn't know then when asked again says "a crime was committed." She agrees she can accept the presumption of innocence.
Sheffield asks if there is anything about this case that has racist overtones or racist tendencies and she responds "I feel like it could" but is open to the idea it might not be.
Greg McMichael's attorney Laura Hogue is questioning her now.
Hogue asks about her early views on race and the judge has the juror step out and briefly reprimands her for telling the court in front of the juror what she's allowed to ask. 
The judge calls the juror back in and she tells Hogue she has discussed the case with friends and family.
Kevin Gough questions her briefly about her background, her decision to buy a gun and her family. She rejoins the panel.
Hogue again asks the judge if she can ask about their early views on race.
Juror 76
Juror #76 appears to be a white man in his 60s. 
He has served on a jury as a foreperson.
Owns two guns
He knows a woman on the witness list.
A prosecutor asks him if he's looked into the case and why. He appears to get a little emotional and the prosecutor asks him if he needs a moment. He replies "It's a little nervous I appreciate this opportunity."
He's about a 5/10 in terms of his knowledge of the case and says he can make a decision solely based on the evidence.
"I just get a little choked up at times," he later tells Bob Rubin. "It's all just my personality. I'm an emotional person."
He tells Rubin he makes decisions by doing research and educating himself.
"I'm pretty anal and very meticulous," he said.
Kevin Gough questions him briefly about church, where he's previously lived, the gun he owns, his thoughts on open carry. He says he only has a problem with open carrying when the person looks suspicious.
Juror 79
Juror #79, appears to be a white woman in her 30s or 40s. 
She has been robbed at gunpoint, does not own firearms ("I'm just not comfortable with them. I'm all for guns I'm scared of them"). 
She knows someone who had a negative experience law enforcement – but said she could be open-minded in this case. 
She believes police may not treat POC and white people equally. "I think a lot of times they profile Blacks"
"There's probably a lot of facts that the public is not aware of too, I don't want to draw a decision just on hearsay," she told prosecutors.
She's worried about cameras because Brunswick is a small town, but said she thinks she can be fair and impartial.
No questions from the defense, she rejoins the panel.
Juror 80
Juror #80 She's a POC, born [outside the US]. 
She has a speech problem and had a stroke a few years ago, which she said makes her forgetful and can make it difficult to understand new things. 
She said mentally she doesn't feel prepared to serve. ("I don't feel qualified to make life decisions for other people.")
State moves to strike for cause, defense agrees.
Juror 88
Juror #88 appears to be a white man in his 60s or 70s
Was the victim of a burglary
On his questionnaire indicated he didn't feel McMichaels were justified in their actions. 
He said he looked online when he first heard about the case and the video caught his attention. 
The manner in which they chased him was "very excessive" and "pretty imposing." 
He said the defendants could've easily identified Arbery was unarmed and not a threat before using "deadly force." 
He said he reviewed the video after receiving his summons and still felt their actions weren't justified.
"I still felt the same way I thought they shot and killed the guy," he said.
"I don't think I can. I think I am where I am," he said, when asked if he could be objective. He is later struck for cause.
Juror 89
Juror #89 appears to be a white woman in 40s, 50s 
Knows [multiple] other jurors
Owns multiple guns.
[Family issue] has been really difficult for her […] and she's not sure if it will affect her jury service.
She believes the defendants are guilty based on news and the video. 
"Taking the law into your own hands, I don't believe or feel that citizen's arrest is meant to be that way," she told prosecutors. "You don't chase down someone."
But, she said she would be able to render a fair verdict based on the evidence. "I would think so but like I said I don't know if the loss of my husband and my emotions would interfere with that."
Sheffield expresses concern that her attention will be divided and she gets emotional as he asks what triggers her.
She says through tears that she's not sure if she can be fair and impartial but that she would try. 
She rejoins the panel.
Attorneys discuss three questioned jurors
The McMichael and Bryan counsel challenge Juror #72 for cause. Sheffield said she expressed opinion that whatever happened wasn't justified, qualified it as "vigilante justice" and "a hate crime," she used emotion to describe Arbery's loss of life and said she knows all about the case.
Hogue said there were three instances she seemed to be aware of how she's supposed to answer, including her response to her own break-in, the no trespassing signs on her property and her relationship to her father a retired deputy marshal/the criminal justice system. She said her belief it was a hate crime based on her time growing up here. 
Dunikoski said this juror absolutely said she will follow the law and "have a clean slate in her head."
Judge said juror on individual voir dire that her info came from news outlets and had expressed an opinion based on that. But then she said she's always been pretty objective and willing to learn and set that opinion aside. During defense examination, she indicated she could step back from that. Denies the motion.
Sheffield challenges Juror #73 because she stood by her belief a crime has been committed, was not familiar with the presumption of innocence, and learned about the case on the news. 
Hogue read from the juror's questionnaire and took issue with her response that "I know that Mr. Arbery was shot and killed while he was on a run" and that "no one should have to fear because of their color" re: BLM support. She also pointed out that the juror said a crime was committed and "I feel like race could play a role in this case."
Judge decides to strike her based on three of her answers about what she knows about the facts of the case (ie Arbery was gunned down), despite the fact that she said she didn't have a fixed opinion.
Rubin challenges Juror #89 because she […] was having difficulty maintaining her composure. Hogue makes a similar point about her emotions may interfere with her concentration and composure ("There will be tears in this courtroom likely from the witness stand.") Gough says what they did with the juror is wrong. ("I feel that we failed here…this is a brutal trial for any juror physically, emotionally and mentally.")
Prosecutors argue she was jovial before her husband and triggers were mentioned.
Judge grants the motion because she expressed her opinion the defendants were guilty and that individuals are responsible to call the proper authorities 
"I have serious concerns she would be able to make it through a trial of the length this particular case is going to demand."
Court Adjourned 
The judge calls the jury back in and tells them they are going to remain as available jurors in this case and will not be excused.
"You remain as qualified jurors in this case and until instructed otherwise by the court," Walmsley said. "At a minimum until otherwise instructed by the court you are potential jurors." 
He reminds them they cannot discuss this case or go looking for information about the case or visit the locations mentioned.
"We can't do this without you," he said.
And we're adjourned until 8:30 a.m. tomorrow.