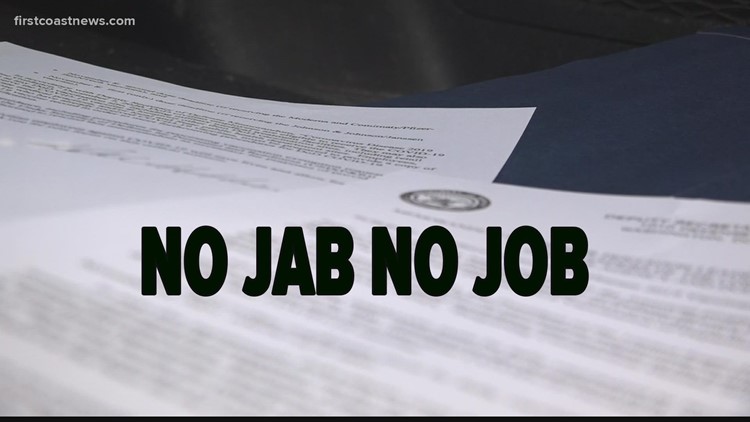 This all comes after the Biden administration announced that government employees and businesses with over 100 employees will be required to be fully vaccinated.
JACKSONVILLE, Fla — Nationwide some workers are facing a crucial decision between getting the COVID-19 vaccine or the possibility of losing their job.
This all comes after the Biden administration announced that federal government employees and contractors will be required to be fully vaccinated as well as businesses with over one hundred employees.
"Here's the mandate and we would be required to get vaccinated and show proof of vaccination or we would be terminated," said a federal employee that wants to remain anonymous.
This week the 56-year-old navy veteran and others received a notice from the secretary of defense via their chain of command and it doesn't sit well with her.
"People should have the right to choose I fully support 100 percent everybody's choice to be able to choose. If you want it that's great. My kids have it," she said. 
The document says that she needs to be fully vaccinated no later than November 22 and employees who are teleworking or working remotely are not excused from this requirement.
Exceptions from the vaccine include reasonable disability or religious accommodation.
"I've worked in the same place for the same employer for 30 years. and I'm looking at losing the job that I have and not being able to get into other jobs which is tragic because there's so many businesses out here that need help," she said. 
She says she does not plan to get the vaccine and hopes to find another job that won't require it.
"I won't even call it a refusal I decline and that's my choice. That's my personal freedom that's being infringed upon," said the anonymous employee.