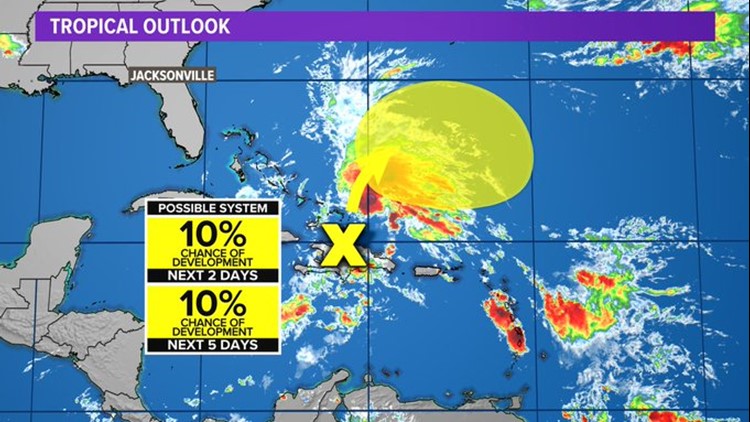 There are no current threats to the First Coast, but we will keep an eye on the Caribbean and Gulf for possible future development.
JACKSONVILLE, Fla. — There are no threats to the First Coast
October tropical systems tend to develop across the Caribbean Sea or the Gulf of Mexico where the sea surface temperatures are still very warm. There is historically a second peak in the middle of October, so make sure you stay vigilant and prepared. You don't want to let your guard down just yet. The Atlantic hurricane season ends on November 30.
1. Satellite-derived wind data indicate that the tropical wave, located a little over 150 miles east of the Windward Islands, has become less defined overnight. While this system continues to produce showers and thunderstorms primarily east of its center, strong upper-level winds will likely prevent further development during the next couple of days.  Regardless of development, the system could produce locally heavy rainfall and gusty winds across portions of the central and northern Lesser Antilles today. 
2. Another tropical wave moving over Hispaniola is producing a large area of disorganized showers and thunderstorms.  Although environmental conditions are not forecast to be conducive for development of this system, a broad area of low pressure, however, is expected to form near the southeast Bahamas on Wednesday and drift generally eastward through the end of the week.  Regardless of development, locally heavy rainfall is possible over portions of the Lesser Antilles, Puerto Rico, and Hispaniola during the next couple of days. 
From the National Hurricane Center recapping the month of September: "Tropical cyclone activity in the Atlantic basin during September was above normal in terms of the numbers of named storms, and major hurricanes. Nine named storms formed in the Atlantic basin in September, with three of them becoming hurricanes, and two of those becoming major hurricanes. Larry was a long-lived category 3 hurricane that ultimately made landfall in Newfoundland as a Category 1 hurricane, while Nicholas made landfall near Sargent Beach, Texas, as a Category 1 hurricane. Based on a 30-year climatology (1991-2020), four named storms typically develop in September, with three of them becoming hurricanes, and one of those becoming a major hurricane.
In terms of Accumulated Cyclone Energy (ACE), which measures the strength and duration of tropical storms and hurricanes, activity in the basin so far in 2021 has also been above normal, almost 50 percent above the long-term mean. The 20 named storms through the end of September is well above the 30-year (1991-2020) average of 9 to 10 named storms by the end of September."
Interactive tropical radar:
SEASONAL OUTLOOK: NOAA's outlook calls for 15-21 named storms, 7-10 hurricanes, and 3-5 major hurricanes in total.
"After a record-setting start, the 2021 Atlantic hurricane season does not show any signs of relenting as it enters the peak months ahead," said Rick Spinrad, Ph.D., NOAA administrator. "NOAA will continue to provide the science and services that are foundational to keeping communities prepared for any threatening storm."
Looking deeper into the season, the Climate Prediction Center has issued a La Niña Watch with La Niña potentially emerging through November. La Niña can help make atmospheric conditions more conducive for tropical cyclones to form the Atlantic, and less conducive in the Eastern Pacific. If 2021 is any indicator so far of what lies ahead this season, it could continue to be an active year.
Hurricane season is here and it's time to be prepared if you aren't already. Make sure you have had conversations with your loved ones about what you would do if a storm were to threaten.
This year, NOAA released the new seasonal averages for the Atlantic basin. According to the 30-year data from 1991 to 2020, the new averages include 14 named storms, 7 hurricanes, and 3 major hurricanes. The previous Atlantic storm averages, based on the period from 1981 to 2010, were 12 named storms, 6 hurricanes, and 3 major hurricanes. The averages from 1951-1980, were 11 named storms, 5 hurricanes, and 1 major.
The Atlantic hurricane season officially runs from June 1 to November 30.
Download the First Coast News app and sign up for severe weather alerts